Inside The Rock Box
Luxury concert experience at Dos Equis Pavilion
Everything is bigger and better in Texas, and getting the chance to experience outdoor concerts in the heart of Dallas, Texas is a true bucket list worthy treat. Dos Equis Pavilion (aka Coca Cola Starplex Amphitheatre and/or Gexa Energy Pavilion) is an outdoor theater located in Fair Park, Dallas.
There is nothing like enjoying live music out under the stars. As your favorite artists head on tour for the summer, you can now plan an unforgettable experience at Dos Equis Pavilion in a Live Nation Rock Box.
The Rock Box at Dos Equis Pavilion provides the VIP experience you've been dreaming of. With the best views of the stage, luxurious lounge style seating and catering on demand from your own dedicated server, you won't want to sit anywhere else. Live like a Rock Star while you rock out to the best tunes of the summer.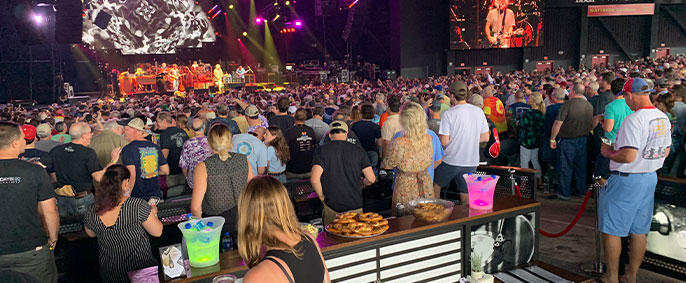 At some venues you can book as few as 2 seats in a VIP Box and share with other concert goers. For a private experience you can book the entire VIP Box by purchasing all the seats. Note: VIP Ticket options vary from venue to venue.
Luxury Options at Dos Equis Pavilion
Box seats at Dos Equis Pavilion are located in the 100 section, and there are 76 box seats available. Each box seat comes with leather seating, and it's own small cocktail table. Boxes 001 to 004 and 18-30 are located behind Orchestra Two and offer the ultimate experience, giving you the absolute best seats in the house.
The VIP Experience Dos Equis Pavilion
VIP Box Seats at Dos Equis Pavilion include:
Best views of stage
Upscale Bar, food (not included)
Nicer restrooms
Kallpod at your seat
Calls waitstaff, fast delivery
Open Air Box Suites at Dos Equis Pavilion include:
16 tickets
Patio furniture + catering [at an additional cost]
VIP Parking
Unless specified on the listing, parking passes are not included with ticket purchases.
Live Nation Club Access
Each listing is different, and most listings do not include access to the Live Nation Club Access, unless noted on the listing. With access to the AIR CONDITIONED Live Nation Club you will enjoy your drink in comfort. Lounge in the cushy couches before the show starts and enjoy the all the creature comforts that come with the title VIP.
Premium Views
VIP tickets offer the best sightlines in the venue. With elevated seating and center sage views you'll enjoy every minute of the performance.
In-Seat Wait Service
Don't miss a moment of the concert with in seat wait service and food delivered straight to your seat within moments. No need to battle the concessions line in between acts or performers.
Exclusive Restrooms
Raise your hand if you love waiting in line for sketchy public restrooms, only to risk the chance of the person next to you throwing up on your shoes? No need, with the exclusive restrooms designed only for VIP Patrons, like yourself.