Inside The Rock Box
A Luxury Experience for Music Fans
Why not take an evening and live like a true VIP and experience a concert under the stars in a the exclusive Rock Box, seeing your favorite performer either of now, or a throwback group to your younger days? Hollywood Casino Amphitheatre Tinley Park is an outdoor music venue located in Tinley Park, Illinois, and is the largest outdoor music venue in the Chicago Area.
There is nothing like enjoying live music out under the stars. As your favorite artists head on tour for the summer, you can now plan an unforgettable experience at Hollywood Casino Amphitheatre Tinley Park in a Live Nation Rock Box.
The Rock Box at Hollywood Casino Amphitheatre Tinley Park provides the VIP experience you've been dreaming of. With the best views of the stage, luxurious lounge style seating and catering on demand from your own dedicated server, you won't want to sit anywhere else. Live like a Rock Star while you rock out to the best tunes of the summer.
In addition to the private seating in front of the stage, you'll receive a reserved table in the Live Nation VIP Club and a parking pass for every pair of tickets.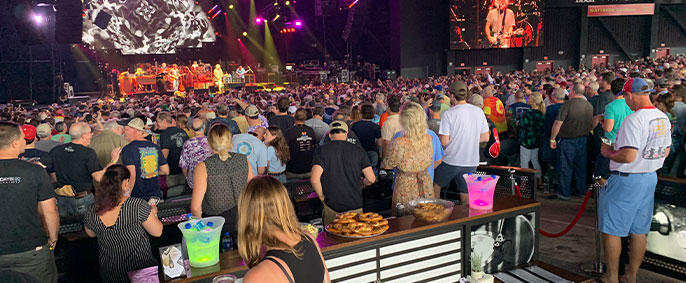 The VIP Experience
VIP Parking
For select shows, VIP Parking passes may be available for purchase with your VIP Box ticket at Hollywood Casino Amphitheatre Tinley Park, and will include access into the exclusive VIP Parking lot. The parking lot is situated closely to the entrance, and also offers a private entrance into the venue, so you won't have to fight the long excessive lines of GA.
Access to Private Clubs
The VIP box tickets come with access into the hottest VIP Club dining areas, which have an outdoor pavilion, comfortable seating, and amazing food and top shelf liquor options available for making great drinks. Catering or beverages are not included with the cost of your ticket booking.
Premium Views
The premium view in a VIP Box at Hollywood Casino Amphitheatre Tinley Park are amazing, and offer center stage vantage point, located behind the floor and pit area. Hollywood Casino Amphitheatre Suites offer an elevated view of the stage from the upper level suite view.
In-Seat Wait Service
There's no need to miss a minute of the show when drinks and food are delivered directly to your suite. Use the in-seat Kallpod buttons to request a server direct to your seat!
Exclusive Restrooms
Exclusive VIP restrooms at Hollywood Casino Amphitheatre Tinley Park make being a VIP Box ticket holder feel luxurious. Restrooms are clean, easily accessible, and (in many cases) climate controlled.