Inside The Rock Box
BB&T Pavilion VIP Boxes
BB&T Pavilion an outdoor amphitheater and indoor theater complex located in Camden, New Jersey. During the warmer months, it is used as an outdoor location for many concerts or events, and during colder months, it is transformed into an indoor theater complex. The luxurious entertainment in New Jersey continues year round.
There is nothing like enjoying live music out under the stars. As your favorite artists head on tour for the summer, you can now plan an unforgettable experience at BB&T Pavilion in a Live Nation Rock Box.
The Rock Box at BB&T Pavilion provides the VIP experience you've been dreaming about. With the best views of the stage, luxurious lounge style seating and catering on demand from your own dedicated server, you won't want to sit anywhere else. Live like a Rock Star while you rock out to the best tunes of the summer.
In addition to the private seating in front of the stage, you'll receive a reserved table in the Live Nation VIP Club and a parking pass for every set of tickets.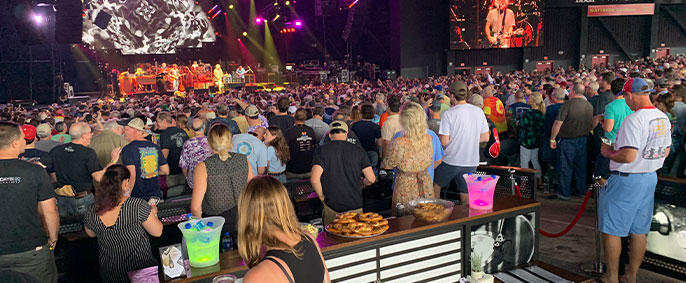 How much do BB&T Pavilion VIP Boxes cost?
Pricing for events or concerts at BB&T Pavilion can range in price and the low end can begin around $2000, and go up to $15,000 depending on the concert or performer.